Click on the YouTube videos to the right to see and hear the guitars in action.

I love blending art, music and history all together, and nothing allows me to do that better than creating a
Cigar Box Guitar. Based on African roots folk instruments, these guitars were being made by at least the 1860's, and probably earlier. People sitting on their front porch with the "blues" in their heart and no money to buy instruments, would build them out of whatever was on hand, which usually meant an old cigar box, a broomstick and a piece of discarded piano wire. The "Delta Blues" was bred, in part, on these Cigar Box Guitars. I try to keep the tradition alive by using as many found or re-purposed parts as I can, while still creating something aesthetically beautiful. I make these guitars to not only please the ear with that raw bluesy sound, but to also be a wonderfully artful conversation piece while hanging on your wall.


---
Both of the guitars above were presented to Canned Heat onstage at the Rock 'N Blues Festival in Las Vegas on July 27th, 2013.
.

This "Royal Italian" made from an antique Italian cigar box, I made for Jess Rosen, who is an attorney for B.B. King and many other music greats. Jess also happens to be an incredible jazz guitarist himself. This guitar made its way into his collection of rare and vintage guitars.


---

.

This little 3 string Sosa I built for Paul Worley, grammy winning producer and co-writer for the popular Country Band "Lady Antebellum". He just happens to smoke this brand of cigar!


---
Larry's 4 string Resonator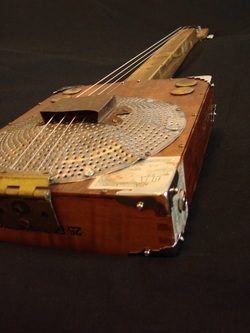 This is the first guitar I built for Larry "The Mole" Taylor of the legendary Woodstock blues band, Canned Heat. He is also the bass player for Tom Waits, when Tom is on tour. Larry's list of musical accomplishments is very long. Look him up--you won't be disappointed.
---