Whether you're a collector, a one man band, or part of an ensemble, these instruments are both interesting and fun.
In addition to what you see here, I also custom make African Gourd Water Drums, Brazilian Berimbaus, Kalimbas, Gourd Rattles and other folk instruments. If you have something in mind, contact me and I'll let you know if I can create it.

Just a note on the African Gourd Udu Drums--Modern Udu Drums are made of ceramic and have a nice sound, but originally (hundreds or thousands of years ago) Udus were made of gourds, and produce a unique sound that you just can't get from ceramic.


Before you click on this video showing the Udu Drums, please put on HEADPHONES. That's the only way you'll be able to hear the true sound these Udus make.



Elephant Revival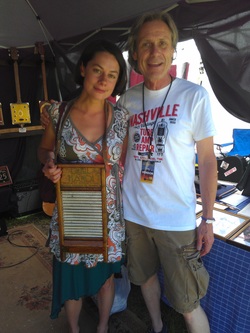 Bonnie Paine of Elephant Revival sporting one of my Electric Washboards. Bonnie and Dan spent some time in my booth at the Ogden Music Festival after the concert. They both made my instruments sound amazing!
---